Yarri Project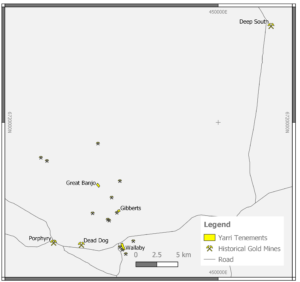 The tenements lie within the Edjudina Domain, which is bounded to the west by the Keith-Kilkenny Tectonic Zone (made up of the Yilgangi Fault and the faults bounding the Pig Well Graben) and by the Celia Tectonic Zone (more specifically, the Claypan Fault), which forms the eastern boundary. The domain hosts multiple west-dipping, west-facing homoclinal sequences of mafic to felsic volcanic layers showing lateral facies variation and is cut by low angle faults
Nelson Yarri project consists of three prospects on three Prospecting Licences to the North and East of the historic Yarri State Battery site.
Historic production occurred in 1902-1914 and 1934-1940. Total production from the Wallaby line is recorded as
21,000 ounces from 42,000 tonnes at an average grade of 15.5g/t Au.
Nelson Resources conducted a maiden 19-hole RC drilling program for 1183 metres at the Wallaby Prospect in January 2018 which delivered high gold intercepts including:
1 metre @ 10.8g/t Au from 15 metres
2 metres @ 4.87g/t Au from 13 metres
5 metres @ 10.67g/t Au from 52 metres
1 metre @ 2.17g/t Au from 16 metres
In the period between November 2018 and February 2019 Nelson Resources conducted a 70-hole RC drilling program for 6440 metres at the Wallaby Prospect. In this period an eight-hole RC drilling program for 1709 metres was conducted at the Great Banjo Prospect and a 14-hole RC drilling program for 1248 metres was conducted at the Gibberts Prospect